Case Study: Transforming a building interior with tape art: 'Urban Metropolis'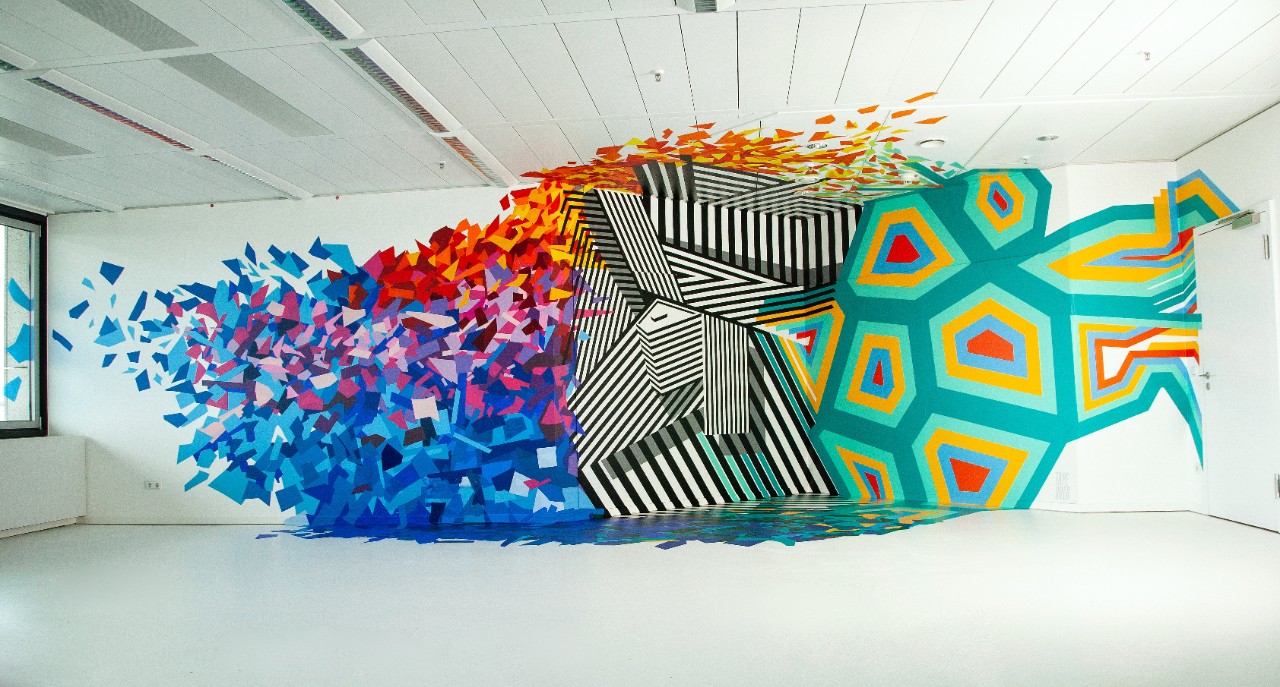 Challenge 
As part of turning this empty building from the 80s/90s into a new center for startups, a group of tape artists were asked to bring an interior space to life. The existing and boring space on the top floor initially consisted of two huge lofts (around 300 sqm), with 12 individual offices. After all of the interior walls had been removed, a genuine blank canvas was left behind, with nothing in place except white-painted walls. The artists were tasked with bringing new life and color into the space using tape art. Walls, floors, and ceilings were all involved, and all were different physical surfaces – potentially complicating choice of materials.
Approach
The first step was to find a way to combine many different individual styles and ideas, bringing them together under a unifying concept. The team of artists settled on an overarching theme of "Urban Metropolis". It allowed them to play with all kinds of creative concepts in terms of colors, shapes, patterns and their dynamic interplay. They then selected tape materials that could cope both with the artistic demands and the nature of the building itself.
Solution
Mactac Signage Portfolio provided the range of colors needed, along with the versatility in terms of application on varying surfaces and durability. A total of 24 colours were used from the MACal 8900 Pro Series. These different colors were sorted into matching combinations, creating a nice gradient. Separate teams then started working in two different places in one room. Robert König also worked on finishing touches, making sure that each piece of tape art had a different dynamic, and that all the different styles and elements were added together – merging into each other as if they were connected as things are in a metropolis. He suggested some integration and combination and finishing touches.