Mactac launches new digital print films in Southeast Asia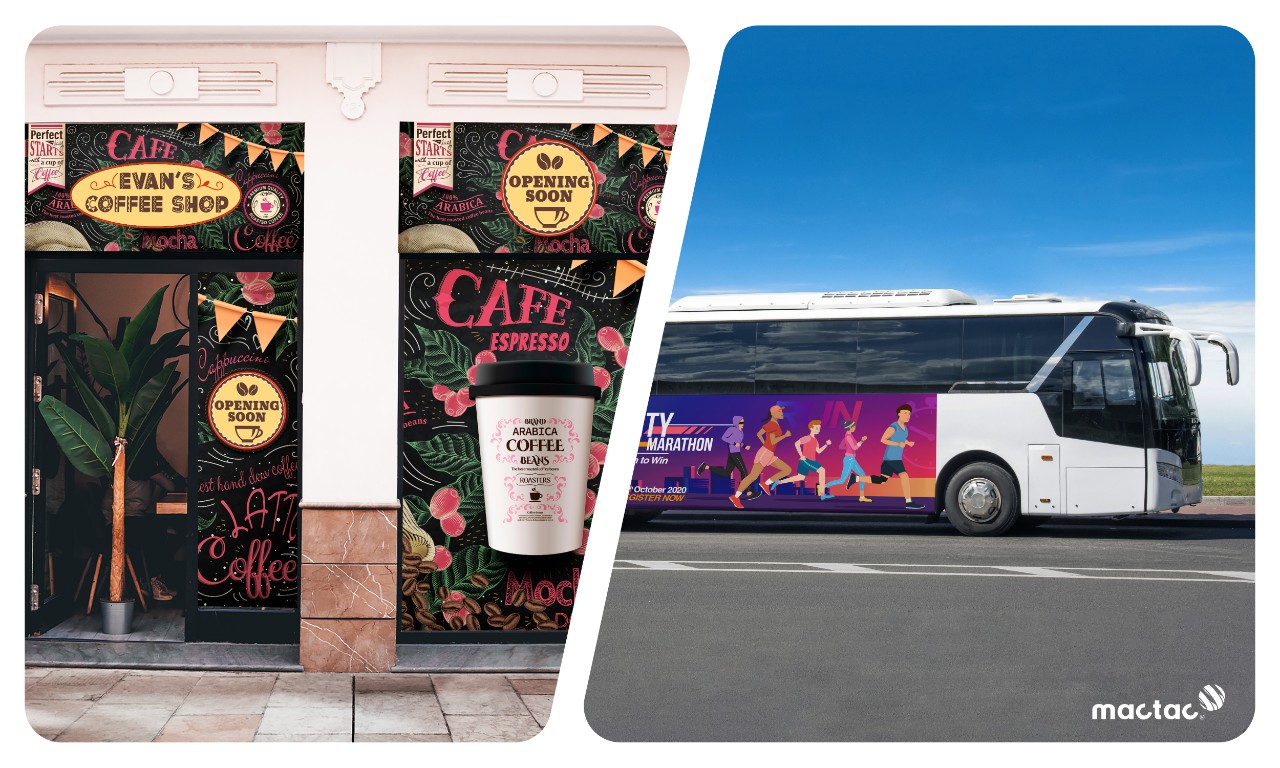 The JT 8200 Series Brings Designs to Life for Short-Term Indoor and Outdoor Promotional Campaigns; Great for the Festive Season, Product Launches, Exhibitions or Trade Shows
Kuala Lumpur, Malaysia, November 30, 2021 – Mactac, a European leader in Graphic Solutions with over 50 years' experience, today launched the new Mactac JT 8200 series of digital print films for short term promotional applications including point of sales, window graphics, exhibitions, and advertising in Indonesia, Malaysia, the Philippines, Singapore, Thailand and Vietnam. 
The new JT 8200 series is purpose-built for companies doing short term communication such as discounts and promotional activities, advertising during festive seasons, product launches, exhibitions, or trade shows.
"As markets across ASEAN region head towards the new year, brand owners, transport providers and mall managers can leverage the Mactac JT 8200 series to communicate with their audiences through creative, high impact graphics at retail, public spaces, and on public transport vehicles," said Vimalan Balakrishnan, Product Lead for Avery Dennison Graphics Solutions in ASEAN. 
"We are proud to respond to customers' fast-changing promotional needs with the new JT 8200 series as it will empower them to deliver magical prints that leave a lasting impression." 
The JT 8200 series is a monomeric calendered self-adhesive printing media available in white gloss with plans for white matte in the first half of 2022. The series is specially designed for solvent-based, eco-solvent, mild solvent, Latex and UV inkjet printing on wide-format printing equipment, and offers brand owners, graphic designers, and installers options of either permanent or removable adhesive.
"Throughout our tests, the JT 8200 series delivers a remarkable print performance on major print platforms and a range of adhesives making it a reliable and efficient option for indoor and outdoor promotional campaigns," explained Siew Bee Soo, Technical Marketing Lead for Avery Dennison in ASEAN. 
Built for application on flat smooth surfaces, the JT 8200 series is recommended to be laminated with the Mactac LF 8200 series to achieve optimal protection and durability. 
Being an Avery Dennison brand, all Mactac films, including the JT 8200 series and LF 8200 series, are made to meet high-quality standards. With installation by experienced professional branding, signage, and graphic installers, brand owners can use the JT 8200 as their short-term promotional mobile billboards, wall-to-ceiling graphics, or fleet graphics, among many applications.
Learn more about the Mactac JT 8200 series and the Mactac LF 8200 series here.
About Mactac
For over fifty years, Mactac in Europe has been creating innovative graphic materials that provide a canvas for visually stunning designs across many different decoration and graphic applications, including architecture and transportation. Since August 2016, the European business of Mactac has been a part of Avery Dennison. For more information on Mactac, visit www.mactacgraphics.eu
Media contact
Izdihar Rijap

Avery Dennison

izdihar.rijap@ap.averydennison.com