How are we reducing our transportation footprint?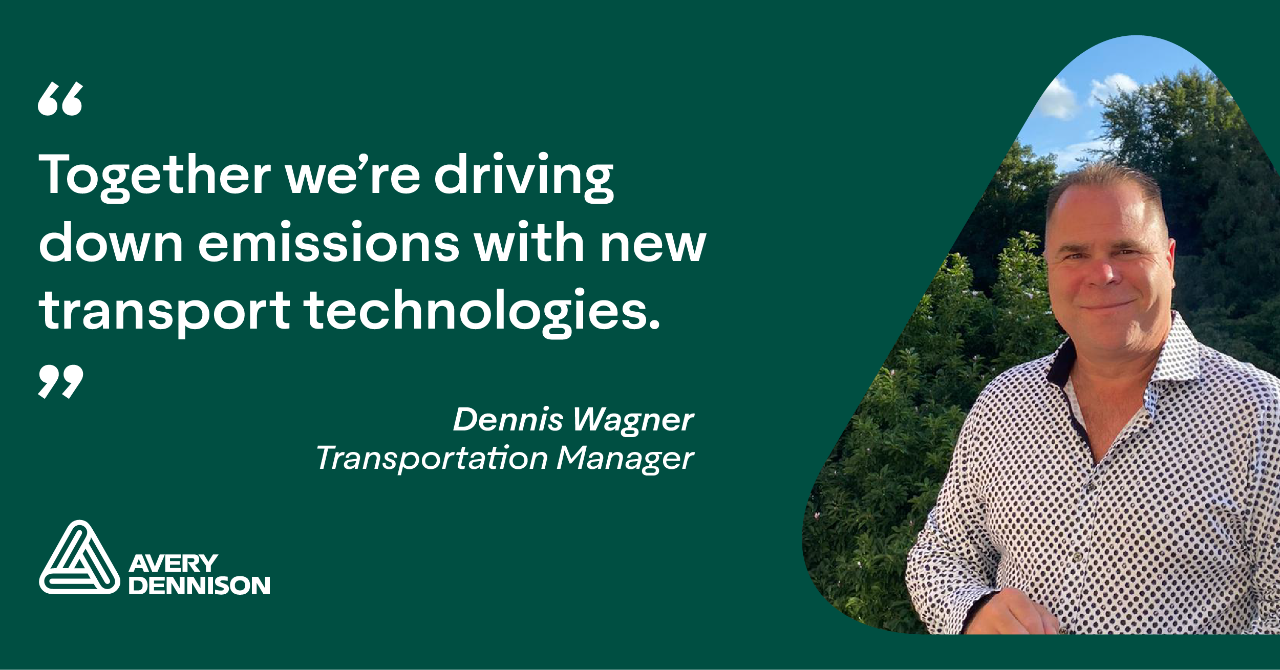 "Together we're driving down emissions with new transport technologies." - Dennis Wagner, Transportation Manager Avery Dennison 
Dennis Wagner: "We are very excited to share our new positive contribution to the environment as well as towards Avery Dennison's sustainability goals. Our great collaboration with our transport partner Jerich International has been essential in the successful implementation of new sustainable initiatives and we are looking forward to further identifying and implementing new ways to reduce our transportation footprint together."
"New transport technologies have given us a great path to follow for a bright future!" -  Herbert Jerich, CEO of Jerich International.
Visitors to our facilities in Belgium can now find two new Compressed Natural Gas (CNG) trucks shuttle trucks running deliveries between our Graphics production plant and our distribution warehouse. These vehicles are running on BIO-CNG, a regenerative and climate-friendly bio-gas, which is produced out of waste and recycled materials. 
Every year we will save over 300 tonnes of CO2 emissions, equivalent to taking 64.6 cars off the road for one year (Reference for CO2 conversion) and reduce dust pollution compared to standard petrol and diesel trucks! 
This more sustainable transport solution is part of our commitment to reducing our sustainability footprint in our operations and supply chain, and has been made possible  in collaboration with transport carrier Jerich International.
Following this success, we spoke to Herbert Jerich, CEO of Jerich International, to discuss how the transport industry is becoming more sustainable:
How are global logistics companies enabling sustainability?
Sustainability has always been important to Jerich International. We started out as a carrier over 50 years ago, and now we are a full logistics provider for companies mainly within the paper industry but also within the automotive and food industries. Today we are focusing on technologies that replace diesel with cleaner fuels, however throughout our history we have invested in providing solutions that utilize rail rather than road. We operate 32 warehouses worldwide, and 30 are rail-connected. So our sustainability strategy was led by having good rail connections in the warehouses. 
How important are logistics solutions in creating tomorrow's more sustainable industries? 
If we are to create more sustainable industries, everyone in the supply chain, including logistics, is important. The focus of the logistics industry has always been how to get a product from A to B as efficiently as possible. I am happy to say that the logistics sector has been increasingly focusing on improving its sustainability footprint and in particular on reducing CO2 emissions or even becoming CO2 neutral.
In my view, service continues to play the most important role for the industry because customers expect their goods in a timely and profitable manner. However, new technologies are now emerging that are having a big impact, such as Compressed Natural Gas (CNG)! 
How are you already helping your customers be more sustainable today, for example with CNG trucks?
We have invested in CNG trucks and recently introduced them for Avery Dennison in Belgium. We are very happy to report that our shuttles between these two locations will save about 300 tonnes of CO2 emissions per year. We hope the network of CNG petrol stations will expand to enable more routes.
Furthermore, our fleet of 600 trucks running on diesel all have the Euro6 certificate, which helps minimize our CO2 emissions from the get go. 
Also, one of our key partners, Mercedes, is focusing on electric vehicles. We are now looking into developing some short line haul distributions, including for Avery Dennison in Italy and Germany. We are currently in workshops with Mercedes to brainstorm clean logistics solutions - electric vehicles powered by energy from renewable sources.  
What are the key challenges in making transport more sustainable?
At Jerich International, our customer portfolio consists of Fortune 500 companies, and there we see that the bigger the company the stronger their commitment is to sustainability. It makes us happy that it is not only the price that counts but also the environmental impact. We need to keep innovating solutions that are greener, and more competitive.
Second, we need to invest in the infrastructure of CNG and liquid natural gas (LNG) fuel stations. With a larger network, we can offer these kinds of trucks not only for shuttle services but also for longer hauls.
Another emerging technology we are curious to see progress with is hydrogen fueled vehicles.
Many big companies are working on finding more sustainable solutions, which is exciting. 
Which trends and innovations will make logistics more sustainable in the future?
Maybe another opportunity is to remember that every transported pallet counts. It is probably time for companies to think a little bit differently and change expectations. Perhaps establishing a minimum weight per delivery and therefore having larger truck payloads could be an effective way forward and something that I think everybody can do with minimal costs. If you calculate it down per tonne, it reduces CO2 emissions significantly. 
The combination of the different technologies and all the innovation that has happened within many companies in the last couple of years has given us a great path to follow for a bright future.
It is important that companies like Avery Dennison believe in sustainability, and make the CNG truck project possible. We are in very early stages but collaborating together on such a pilot project leads the industry in the right direction and I'm thankful that Avery Dennison understands that. I'm happy to be a partner working with Avery Dennison to make it happen.
Our goal at Avery Dennison is to advance our sustainability commitment, collaborating closely with key players across the value chain. To find out more information on our commitment to Sustainability, you can visit our website and check out our sustainability brochure.